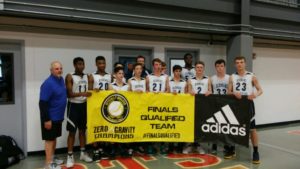 17u Wins Championship!
— May 1, 2017
The Edge Athletics 17u went 3-0 in their bracket, earning them a spot in the championship game on Sunday afternoon against the NYC Knights. The Edge boys led most of the game behind a solid offensive and defensive effort and closed out the win 60-57.
In other action the 11u lost on Sunday to the Hooperstown Huskies after Joey Delforno sent the game into overtime with free throws.  The 12u boys finished the weekend with a 2-1 record, while the 16u beat the JAMM also on Sunday afternoon.
Congratulations to all of the teams this weekend for a great showing!