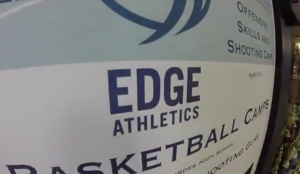 Alert Feature Updated
— March 21, 2018
Important Alert Notification Announcement
The Edge Athletics Alert feature platform will be updated this evening. If you previously subscribed, you will still be subscribed on the new platform. However, the e-mail notification feature  is not available on the new platform. If you were previously subscribed with your e-mail address only and still want to receive alerts, you must resubscribe with your phone number for text message alerts.
The alerts that you will receive will come from the following number: 914-371-3343
Why are you changing the service?
Our prior service was not updated in some time and is no longer supported by the vendor. In order to continue to ensure the latest security updates are activated we needed to switch to a different vendor. The new vendor will ensure better delivery of alerts.
What improvements have been implemented?
The new text message alert vendor is a more secure, robust service. We also now have the ability to send targeted messages out that pertain only to specific teams. For example, if we need to alert only the 12-under team about a change for a game, only those subscribed to the 12-under alerts will get notified, avoiding sending out alerts that are not relevant to other people.
Do I have to subscribe again?
If you were previously subscribed with your phone number you do not have to resubscribe. You will automatically be enrolled in the new platform general alerts. If you were subscribed by e-mail only (with no phone number) you will need to subscribe your phone number if you want to continue getting alerts.
How do team-specific alerts work?
Every user who was previously subscribed to the old service has been resubscribed to the "General Alerts" service. These alerts pertain to general Edge Athletics alerts. We encourage everyone to subscribe to the individual team alerts which may pertain to them. You may subscribe to multiple team alerts. If you do not subscribe to your specific team alert group, you may not get important messages that are sent out. Please subscribe to the applicable team alert(s).
How do I subscribe to the team alerts?
Please visit the home page and enter your name and phone number, select the teams you want to subscribe to and click the "Get Confirmation Code" button. When you receive a confirmation code on your phone, enter it in the box and hit the "Subscribe" button to subscribe.
Can I just subscribe to the general alerts?
Yes. If you were already subscribed with a phone number you don't need to do anything. You have been automatically enrolled in our new platform under the general alerts only. If you have not previously subscribed, just visit the home page and subscribe while leaving all the team boxes unchecked. You will be subscribed to the general alerts only.
Can I still use e-mail for alerts?
No. We do not have the ability to send out e-mail alerts. Most of our alerts are time sensitive and we saw the e-mail alerts not being viewed in time. If you are interested in e-mail alerts, please let us know.