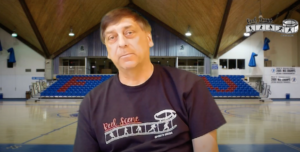 A candid interview with Coach Santoro
— February 1, 2023
Real Scene Sports Media's George Batchelor sits down with long time Our Lady of Lourdes boys basketball coach Jim Santoro for a candid and relaxed interview. Mr. Batchelor dives into many topics with the coach including challenges he has faced over the last three decades, his coaching philosophy, future plans, and much more. A look into the personal side of a coach that most people don't ever see and don't know.
As a side note, Mr. Batchelor's son, Sonny, is now a student at Lourdes and was moved up to the varsity as a freshman after a strong Junior Varsity season. The interview was done prior to Mr. Batchelor's son's decision to attend Lourdes.
Click Here to see the interview.