Mr. Santoro has more than 40 years of coaching experience. A former Manhasset High School teammate of Duke University starting guard Tom Emma (1980-1984), he has played with and against many former Division I and professional athletes including Matt Doherty (UNC), Frank Brickowski (NY Knicks), George Bruns (NY Nets), and Bill Wennington (Chicago Bulls). Coach Santoro starting his coaching career while playing for Clarkson University. He worked the summer months as a coach/counselor for many basketball camps including Five Star and Eastern Invitational (Now known as the HoopGroup). After graduating from Clarkson with a BS and MBA, Mr. Santoro moved to Poughkeepsie after accepting a position with International Business Machines Corporation (IBM). Upon his arrival in Poughkeepsie, Mr. Santoro began volunteering his time to both the Saint Mary's Fishkill and Saint Martin's De Pores CYO basketball programs, leading the 6th and 7th grade travel teams for 5 years (1982-1987).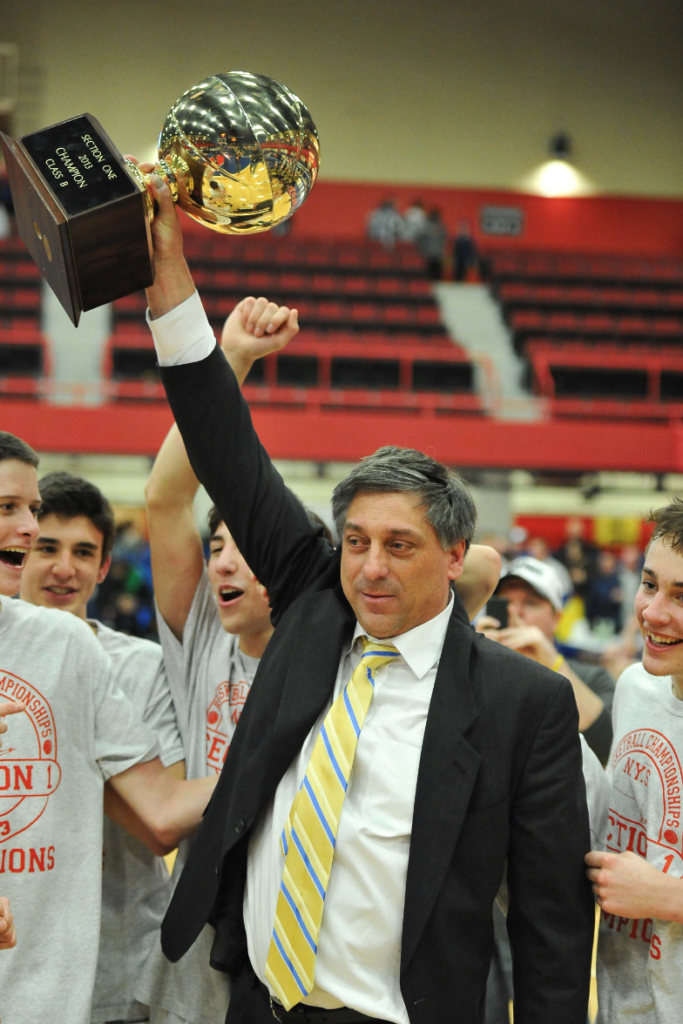 Mr. Santoro was hired as the Junior Varsity Coach at Our Lady of Lourdes High School in 1987 under then Head Coach Tom O'Neil and was named the Varsity Head Coach two years later. He has directed the basketball program at OLL for the last 34 years and has amassed over 400 wins, won 7 league tittles, four Section One/Nine title game appearances, two NYS Section One titles, 6 appearances at the Westchester County Center, one regional title, and one NYS Class A Finalist. After moving to Section IX for the 2022-23 season, his team won their division and the MHAL title and advanced to the Section IX championship game. He has been honored as Coach Of the Year 7 times by various media outlets.
During the course of his high school coaching career, Mr. Santoro worked for the the HoopGroup as counselor and coach. He was also a talent evaluator for the National Recruiting Report (NRR), the most prominent scouting service in the country. "Jim had a knack for seeing and evaluating college talent at every level," said Steve Keller, owner of the NRR. "He was one of several scouts that evaluated athletes for NRR at high profile AAU tournaments, exposure events, and camps," Keller added.
In 1996, Mr. Santoro, along with former Head Marist coach Dave Magarity, formed the Hudson Valley River Rats. One year later he formed and developed the now current Edge Athletics Club Sports Education Program, the longest running AAU program in the area. In addition to running spring AAU, Edge athletics also runs basketball camps and clinics. Those camps and clinics are considered by many to be the finest in the area, offering 6 weeks each summer and attracting more than 800 athletes each year.
In 2001, Mr. Santoro began working with and training under Coach Dave Hopla. Coach Hopla is the top shooting instructor in the country and has worked with many NBA teams over the past 20 years. "Coach Santoro has developed into the finest shooting instructor in the Northeast. He has the ability to work with all levels of players from grammar school to college. He has a unique and proven approach to get players to shoot the right way…a difficult thing to do," Hopla said. Today, he works with student athletes in multiple counties, helping them to achieve their goals. He has become the premier shooting instructor in the northeast and has worked with hundreds of athletes helping them become better shooters and players.
Mr. Santoro has and continues to guide athletes and families through the difficult maze of the college recruiting process and helps students from every school in the area. He relies on his vast knowledge of the recruiting process and the deep network he has developed of college coaches and contacts. Over the many years of his tenure, Mr. Santoro has helped more than 100 student-athletes move on to play in college.
In addition, more than 20 former players of his have gone on to coach at either the high school or collegiate level including Adam Crawford (NYU), Rob Donaldson (Atlanta, Georgia), Paul Fanuele (Our Lady of Lourdes / John Jay High School), Matt Hayes (Our Lady of Lourdes / John Jay / Red Hook High School), Ryan Peek (Millbrook High School), Matt Hoyt (Our Lady of Lourdes / Arlington High School / Spackenkill High School), Andy Hoyt (Our Lady of Lourdes), Mark Brooks (Highland High School), Matt Donahue (Our Lady of Lourdes), Rob Pisanelli (Eastern Carolina), Mark Kutchma (Dover High School / Charter School, N.J.), Rob Santoro (Binghamton University), Martin McCann (Lynn University / Palm Beach State / Daytona State College), Brandon Breitfeller (Our Lady of Lourdes / Dover High School), Dom Garbellano (Our Lady of Lourdes), Chris Santoro (Poughkeepsie Day School / Our Lady of Lourdes High School),  Matt Covucci (Our Lady of Lourdes High School), Tom Jordan (Carmel High School / Our Lady of Lourdes High School / Daytona State College), Kelby Santoro (SUNY Oneonta / Our Lady of Lourdes High School).
After 25 years and after being promoted to Program Director at IBM, Mr. Santoro left IBM in 2007 to devote full time to his passion to teach and guide athletes of all levels. He resides in Poughkeepsie with his wife Lynn and has four children, all boys, and all played the game.