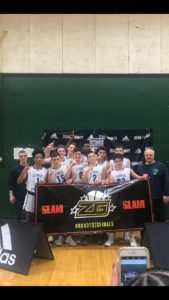 Edge Athletics Spring 2021 AAU Update
— February 6, 2021
Many of our athletes have been asking about the status of our spring AAU program, when tryouts will be held and if it will include tournament play. The short answer is tryouts will begin sometime in the middle of March and it will include tournament play if the state allows us to. There are many variables that will influence what we offer and when it will begin. I will summarize them here with a series of Q&A's.
Q. When will tryouts begin for the spring program?
A. Since most of our age divisions are school level players, and school sports have been approved to begin, the timing of our start date is TBD. School sports would typically end by mid/late February and our start date would coincide with that schedule. It is currently unclear when the adjusted school schedule will conclude, and we, therefore, cannot schedule tryout dates as of yet.
Q. When will you know the dates tryouts will be held?
A. As soon as the school schedule becomes clear, we will schedule tryouts. We are hoping to know the status of the school schedule in a week or two.
Q. Some of the younger age division athletes are not participating in school sports. Will those divisions begin sooner?
A. Although there are some ages where school sports are not available to those athletes, we still do not yet have a tryout schedule for them since our entire staff is made up of High School level coaches. We will try, however, to get those younger athletes started sooner than the rest but it will depend on the schedule of the coaches. We hope to know some dates in the next week or so.
Q. Will you continue to offer the 4 week workout/practice programs that you have been running the last few months?
A. The recent snow storms, coupled with unexpected announcement that high school sports will begin has caused some rescheduling of the January program practice/workout sessions. Once the January program is complete, we will offer another 4 weeks depending on the duration of the school season.
Q. Will we play in tournaments?
A. The plan is to play in tournaments if allowed by the state. As of now, it looks like the state has authorized clubs to participate in competitive tournaments but the logistics are unclear.
Q. Will Edge teams travel out of state?
A. Edge teams will typically travel out of state to compete in various tournaments. As long as the guidelines allow us to travel out of state, we will compete in tournaments that we have typically competed in past years.
Q. Do you have coaches already lined up for the spring season?
A. Edge Athletics features some of the finest and most experienced coaches in the area. Although we do not assign coaches until tryouts are held, be assured that only the top qualified coaches in the area will lead our teams.
Q. Will practices still be held at the Poughkeepsie Day School?
A. Yes.
Q. What will the tuition fee be for this year?
A. Because we do not know the status of tournaments or how many will be available to us, we have not yet set our fees. Since tournaments have been restricting fans, we anticipate that the entry fees for tournaments will increase. We will, however, strive to be the best value in the area!
Q. There are some programs that are promising college exposure that will lead to college scholarships. Will participating in the Edge Program guarantee an eventual college scholarship?
A. NO. Although most other AAU programs provide great opportunities for athletes to practice and compete, there are some that make lofty claims and overpromise things that they simply cannot deliver on. Beware and choose your program wisely. I suggest you read the article on our website that summarizes the TYPES of AAU programs that exist. Here is the link https://www.edgeathletics.com/a-view-of-aau/. If you make one of our teams, the only general promise we will make to you is that we will do our best to provide you with and exceptional experience. We have been around for more than 25 years, and, yes, over a hundred of our athletes have gone on to play at the college level. But that is a reflection of the type of athlete we attract into our program. It does not mean that just simply playing for us will guarantee that you can and will play basketball in college.
Q. You said Edge Athletics will not guarantee that I will play in college, do you promote your athletes to college coaches?
A. My staff and I are deeply networked into the college recruiting process. Our programs this past summer, fall, and winter have featured the top basketball players in the area and we have provided them the opportunity to showcase their skills directly in front of D1, D2, and D3 coaches from all over the country. Most of our athletes are, in fact, currently being recruited by many colleges. If you would like to discuss the logistics of how we get our athletes the needed exposure to college coaches, feel free to contact me directly.

Q. There are a lot of uncertainties. When will you be able to provide some clarity?
A. Although impossible to give a date when things will become clear, I will provide another update sometime during the middle of this upcoming week!
Q. If I have additional questions, can I contact you?
A. Absolutely. Feel free to contact me either by email, text, or phone.
Email – info@edgeathletics.com
Text – 845-264-5078
Phone – 845-264-5078
Coach Jim Santoro