Host Families Needed
— April 30, 2014
The Poughkeepsie Day School and Our Lady of Lourdes High School are in their second and third years of their international student exchange program.  The schools recently announced it will be bringing in even more students in the fall.  So, the school is looking for host families within a 30-minute radius of the school.  We are asking our Edge community that may have the means to become a host family to give it some consideration.  There is a monthly stipend that is provided to the host family.
Most of the current students plan to graduate and hopefully go onto an American college or university.  The schools have noted that being so far from home and doing something so important can be a lot of pressure on these students, and that a good host family can make all of the difference to these students.
The students look to their hosts and peers to learn about American culture.  For instance, many of the students who have never seen snow have taken an interest in skiing and others have even joined an ice skating club.
The students are from various parts of China and have very diverse interests.  Some of the students have become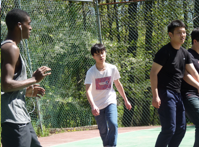 very interested in basketball after a recent trip to Madison Square Garden to watch a professional basketball game.  Others have formed bonds based on a mutual appreciation of video games.
Navigating cultural differences can be a challenge for these students but once they start to open up you can see how much they appreciate learning about American culture and sharing their own.
While this program greatly benefits the students, it also benefits the local community by expanding cultural awareness and diversity.  Students share authentic Chinese recipes with their host families as well as celebrating traditional Chinese holidays, like The Chinese New Year that just recently passed.  Meanwhile, many of the hosts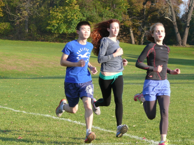 are surprised at how hosting a student brings their own family closer together.  Especially for children, the impact of sharing a space with a person from another culture can be life changing and open their mind to an increasingly globalized world.
My family has been the home to an international student attending the Poughkeepsie Day School for the last three years.  It has been a very rewarding experience for us.  If you are interested in becoming a host family, please email me at jsantoro@edgeathletics.com or contact me directly at 845-264-5078