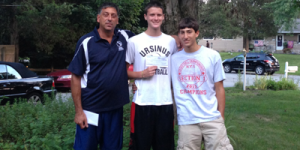 Kolosky Earns Tom Emma Scholarship
— August 28, 2013
It is both an honor and a pleasure to announce that Jack Kolosky has been awarded the Tom Emma Memorial Scholarship for 2013.  Jack had a tremendous basketball career at Our Lady of Lourdes High School as a varsity starter for the last two years.  He played a key role this year helping his team win a section 1 championship. Although Jack had numerous opportunities to further his basketball career at the D3 level,  Jack's commitment in the classroom took priority and he elected to attend Le Moyne College for the academic curriculum they offer.
–
In addition to his commitment to academics, Jack was also very committed to his team and teammates.  He had a very unselfish style of play and always put his team first to help them achieve all of their common goals.  These were some of the same characteristics that Tom had not only during his basketball career at Manhasset High School and Duke University, but also throughout his life as he helped countless young athletes achieve their goals.
–
This scholarship requires no application.  To be considered for this scholarship, a coach must nominate and present the athletes attributes to me either through an email or a direct conversation.  I personally present all of the nominees to an independent board that makes a recommendation who the recipient should be.  The following are some of the characteristics that are considered:
* Has to be a basketball player that is totally committed to achieving excellence at either basketball…or some other sport/activity.  The commitment does NOT have to be to basketball, but the athlete does have to BE a basketball player.
–
* The athlete is completely self motivated and driven.  His desire to achieve excellence has to come from within.
–
*  Athlete must be humble and modest.  During Tom's life, he went out of his way to down play his success and highlight everyone else's success around him.
–
* Was a person that made your interests, his interests.
–
We wish Jack the best of luck as he enters the next phase in his life.  Congratulations from all of of us at Edge Athletics!
More about the Edge Athletics Scholarship
To celebrate it's 10th year anniversary, Edge Athletics announced its first ever college scholarship in 2006.  It continues to provide the opportunity for athletes in Dutchess County to apply for scholarship money to help offset their first year of college expenses. The first scholarship was named after Dr. Roger Yerry, a parent of one of our former athletes who served as team physician for a number of years and was also a tremendous advocate of our program.  That scholarship has been awarded for the last six years.  Last year, following the tragic death of my close friend, Tommy Emma, we added a memorial scholarship to honor the life of Tommy, what he stood for, how he has helped so many young athletes, and most importantly, how he has helped me.  You can read about Tommy in our "Top Story" archives.  From this point forward, Edge Athletics will be awarding ONE scholarship to honor EITHER Dr. Yerry or Tom Emma.  We will accept applications for the Dr. Yerry scholarship per the instructions below.  There is no application needed for the Tom Emma Memorial scholarship.  Candidates for the Tom Emma Memorial Scholarship that meet the criteria will be nominated and presented to us by their coach.  This years applications are due back no later than July 30, 2013.  The winners are selected by an independent committee.  Winners will be notified by the end of the summer.
To Download the Application Click Here
Past winners:
2012: Tyler Dhalin (Millbrook HS, Hartwich College)
2010: Jevein McClendon (Our Lady of Lourdes, Utica College)
2009: Luke Horvath (Spackenkill HS, University of Notredame)
2009: Mike Khan (Millbrook HS, Western New England College)
2008: Joseph Zenz (Our Lady of Lourdes HS, Ithaca College)
2007: Andrew Luckie (Arlington HS, Iona College)
2007: James Patterson  (Poughkeepsie HS, Utica College)
2006: Matt Covucci (Our Lady of Lourdes HS, Marist College)