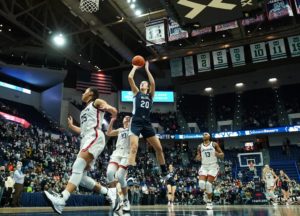 Maddy Siegrist Girls Basketball Clinic
— May 27, 2022
Edge Athletics is proud to announce the second annual Maddy Siegrist Basketball Clinic. Maddy is the third all time leading scorer at Villanova. She was named this years Big East Player of the year as well as Villanova's Female Athlete of the Year.
Come join us for a day filled with drill work and scrimmages with Maddy and the Edge Athletics Staff. Learn the things you need to work on to be the best…from the best! Maddy will be on the court teaching and demonstrating those things that have helped propel her to receive national recognition.
The clinic will take place on Saturday, June 18 from 9am-2pm at the Poughkeepsie Day School gym. Enrollment is limited to the first 30 athletes.
The cost is $75. All checks should be made out to Maddy Siegrist and mailed to Edge Athletics, 4 Ledge Way, Poughkeepsie, NY 12603. Payment can also be made on the Saturday morning of the clinic.
Click Here to register