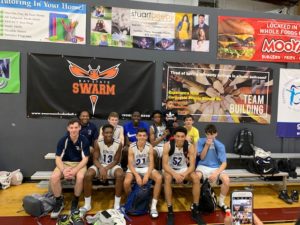 Now is NOT the Time to Put the Ball Down.
— June 12, 2019
Our AAU season has come to a close after a very successful weekend for all of our teams that played at Vassar College and for the 13u and 15u teams that competed in Boston at the Zero Gravity National Finals. At Vassar last weekend, three teams (11u, 13u, and 15u) advanced to the finals with the 11u bringing home the championship. In Boston this past weekend, the 13u went 1-3, with all games being decided in the last few minutes. The 15u team not only advanced to the Finals, but went 5-0 for the weekend bringing home the D2 Championship. They were also ranked as the #2 team in the entire tournament that consisted of over 400 teams. Congratulations to Coach Jordan and Coach Hansen and the rest of the 15u team!
Despite the season being over, all athletes should continue to play and train. There are many opportunities to work on different parts of your game. Here are some things you can do to continue to develop your skills throughout the summer.
Summer League – If you are a high school player, be sure to contact your high school coach about playing in the summer league at Gold's gym and Poughkeepsie High School. Most local high schools are participating in at least one of these leagues this year.
Local Parks – This is a must for all basketball players. Playing in the parks in the evenings during the week and then on Saturday and Sunday mornings is a great way to develop creativity and instincts. There are several local parks that have attracted both high school and college level players including Red Oaks Mill in the Town of Poughkeepsie, the East Fishkill Rec center in Hopewell Junction, Millbank Park in the Town of Poughkeepsie, and Spratt Park in the city of Poughkeepsie. There are many others. Get together with your friends and teammates and get to the park!
Camps – Edge Athletics hosts traditional and specialized offensive skills camps throughout the summer. This camp is the most cost effective way to continue to play basketball all summer long, and to further develop your skill set. There is still time to sign up! For more information, please visit our camp section on this website.
Individual Training – Edge Athletics provides opportunities for individual, small groups, and team training to develop and improve shooting skills. With the use of three shooting "Guns" and shooting performance enhancement tool "Noah," athletes of all skill levels can learn the right way to shoot and become the best in the area. We also focus on all aspects of ball handling. Learn how to create space, handle the ball in pressure situations, and get to the rim and finish. Coach Santoro and Coach Jordan will be working together, training athletes throughout the summer. Contact us at 845-264-5078 for more information and to schedule training sessions.
Northstar Training – Norhtstar is a great place for strength and conditioning. Whether you are basketball player, football player, or play any other sport, Northstar can help you advance to the next level. Their advanced strength and conditioning techniques have helped may athletes reach their goals. Please visit their website Northstar for more information.
If you have any questions about any of the above activities, feel free to contact me.
Jim Santoro
Edge Athletics