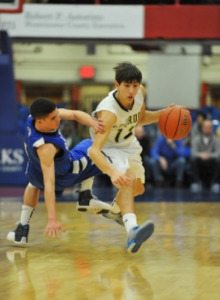 Through The Eyes of a Parent
— March 20, 2019
Edge Athletics Director and basketball coach Jim Santoro remembers telling the parent of one of his players that he couldn't help their son land a college scholarship. In fact, he had to tell him that he wasn't good enough to play basketball at any level in college, D1, D2, or D3.
The young man had been an all-star youth player at a private school that played an "off" schedule. He played in the Edge program, but was never really competitive with his age group. His dad did not see the current player and fixated on the early glory days where his son started on the varsity. And as a senior, still starting on that same team, wouldn't even beat the freshmen teams at any of the local high schools. Santoro felt obligated to speak the truth.
In a three way meeting between he, the dad, and the son, Santoro had to break the news and in a direct way. "I tried to help them come to a conclusion that was more realistic but in the end had to be blunt," Santoro recalled. "Speaking directly to the athlete, I basically had to tell him that he just wasn't good enough to play in college."
.
Santoro played basketball at Manhasset High School, a powerhouse back in his day where many of his teammates went on to play at a high Division 1 level. Although he didn't reach that level, he did extend his playing career at Clarkson University before getting into coaching, first as a CYO coach at St. Mary's in Fishkill and St. Martin De Pores in Poughkeepsie, then as the Junior Varsity coach and Assistant to then Varsity Coach Tom O'Neill at Our Lady of Lourdes High School. Santoro took over the program at Lourdes after being named the Varsity coach after two years. He is now entering into his 30th year in that position.
He has dealt with all kinds of parents while coaching in his Edge Program and at Lourdes, including the ones he calls "delusional." There always seems to be at least one parent who believes his child is going to be a star if only the coach would play him more and in the right position. Anyone who has coached has dealt with overbearing parents.
Like the local high school dad who believed the basketball coach would pull his son from a game if he scored too many points to keep his average from outpacing other players. Do you think that maybe his team was up by 30 points or more and the coach was just giving other kids an opportunity to improve? Forget the logic. That's what he thought.
Or the dad who requested a meeting with his son's coach to discuss why his son wasn't starting or playing the entire game despite being the "best" player on the team. The fact that his son was slow, had tunnel vision (a term used to describe the lack of court vision), took crazy low percentage shots, and couldn't handle the ball was completely oblivious to the father. Backed into a corner by the dad, the coach finally said, "the problem is you. You put too much pressure on him constantly telling him how good he is." After a long pause, the dad said, "Well, how are we going to deal with this?"
Or the mother who tried to argue that the reason her son doesn't pay attention during practices is because he isn't starting and playing every minute of every game. Again, logic doesn't come into play here.
There are mothers who get in the coach's face and complain that the coach needs to work on defense, teach the kids how to score better, and show her son the finer points of shooting techniques. Her 14-year-old needs it to get a college scholarship.
Coach Santoro has seen it all during his 36 year coaching career. He has been challenged more than a few times by parents who did not like his handling of their child, or should we say child's playing time. Playing time is the single most challenged issue for any coach. No matter what issue a parent brings to a coach, the root of it is likely playing time. "You have to try to get the parents to trust your judgement," Santoro said. "It's tough when it comes to playing time. Trust goes out the window. Parents just either don't see it or don't want to see it."
"In our Edge program, I often sit down with them and help them understand where their child is as far as skills go. Even though we stress developmental skills in our program, our coaching staff still competes to win," Santoro said. That competitive instinct which should be instilled in every coach and player is what leads to playing time issues. Not every athlete is capable of competing and winning and only the best athletes will find themselves in any particular game when winning is the objective.
Santoro is willing to speak to parents about their child, but he encourages the athletes to speak with their respective coach. "It is important for athletes, especially the younger ones, to learn how to speak for themselves and to have a communication channel with their coach," Santoro said. But just recently, Santoro encouraged one athlete to meet with his coach to discuss performance and playing time issues. It didn't turn out well. "What was supposed to be a meeting between the athlete and coach turned into the parent (who insisted on being part of the meeting) doing all of the talking," Santoro said. The athlete quit the team that evening.
"That parent made a mistake and lost an opportunity for both he and his son to grow. The parent should have encouraged his son to speak for himself," Santoro said. That would make the relationship between coach and athlete much more effective as they get older. "It is really the only way we can help an athlete understand the things that he needs to do to become more competitive. But that goes back to the point of trust. And that trust has to be earned."
Coaches need to connect with their athletes in a way that will make them comfortable for them to approach their coach. And that is easier said than done. "Coaching is not as easy as some parents think. Everyone wants to be one, but it is just not easy to be effective when it comes to dealing with an entire team," Santoro said. And dealing with all of the parents of all of the athletes makes it even more challenging. Parents have a different perspective then the coach because they are concerned more about their child than the team. The coach is concerned about each athlete but has to put the team first. "It's tough because they only see their child through their own eyes, and they think they are playing for a college scholarship."
Too often, a parent believes the problem is with the coach and not the lack of hard work, or even innate ability, on the part of the athlete. The best advice is for the kid to get a ball and get in a gym on their own. "It's not how hard you work, its how hard you work when no-one is watching," Santoro commented.
Coaches must be capable of dealing with parental concerns and how to best guide them. Parents generally have at least the one common goal of wanting the best for their child. It is very challenging for coaches to help parents "grow" as their child progresses from being a very young athlete to an athlete competing at higher levels. Helping parents manage the emotions of successes and failures of their own child, as well as their team, can be very difficult.
There are many athletes that are born with the ability or "gift" that enable them to excel in their respective sport. But there are also those athletes that just simply work hard, and work hard for many years to develop their skill.
There is, however, a significant difference between the two. First, just because an athlete is born with certain genetics or traits that can't be taught or acquired, does not mean that they will be exceptional athletes or that their talent will prevail. They still must invest countless hours to develop that talent and reach their maximum potential. Those athletes that reach the collegiate or professional level are generally highly committed and driven, traits that may not necessarily be part of that "gift."
On the other hand, there are those athletes that can excel by simply committing and working hard at what they do. This, however, does not mean that working hard is a guarantee that an athlete will reach the level of success they desire to achieve. Sometimes, the hard work is simply just not enough. Athletes that commit themselves to work as hard as they can are more likely to reach whatever full potential that their mind and body are capable of achieving.
So what guidance can coaches give to athletes to help them?
First and foremost, and simply put, they have to have fun. That might sound like something easy to do and even a little bit of a cliché, but excelling at sports is a complex process. If young athletes are not playing the sport because they love to play it and are not having fun playing it, then the rest of the process becomes even more complex and difficult. Unfortunately, the coach and the parents are key components for this to happen.
Next, and along the same lines, stress to the athletes that they need to put in as much time – or as little time – as they want to. Try to ensure that each athlete recognizes what it takes to be successful, but at the end of the day it is the athlete that has to want to do it more than their parents want them to.
And then finally, encourage the athletes to set realistic goals for themselves. It is okay to have a long term dream, but in order for athletes to improve, they must set realistic internal and measurable goals. Those goals can range from improving their shooting percentage, to earning a spot on a team, or earning a starting role on a team. Setting realistic, measurable goals is a great way for young athletes to motivate themselves to work hard, leading to self-confidence as they achieve them.
And as they achieve those goals, they may actually help their parents see them through the eyes of their coach.
– Edge Staff Writer