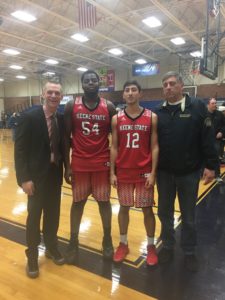 College Coaches Keep on Coming!
— December 6, 2020
Since the beginning of the summer, Edge Athletics has had to modify its approach to the college recruiting process. Edge Athletics is the premiere basketball program in Dutchess County. It has been in existence for over 25 years and features the most experienced coaching staff, attracting the top basketball players. In typical years, Edge Athletics sends its older, recruitable-ready age divisions to tournaments that would give the athletes the most exposure to college coaches and the best chance to extend their careers beyond high school.
Then things changed. Covid-19 came into our lives and put the entire nation on tilt. It has impacted everything we as a nation do. Sports at every level has felt the Covid-19 wrath. From college football cancelations, the NBA playing in the "bubble" without any fans in attendance, the NCAA cancelling one of the most popular sporting events in the country in March Madness, to the high school sports scene. Everything has been impacted.
High school sports, and specifically basketball, has likewise been thrown the Covid-19 curve ball. Not only has it delayed and/or cancelled seasons, but it has taken away the opportunity for high school athletes to be recruited to play in college in the traditional manner that has helped thousands of basketball players to extend their careers.
So what does the high school senior do that has yet to select the ideal college that will offer not only great academics but the opportunity to play basketball in college? What about the current junior class? What do they do? The future and the time some concept of normalcy will return remains unknown.
To help athletes get the exposure they desperately need in these uncertain times, Edge Athletics has changed its approach. "Covid-19 has prevented athletes from having the opportunity to go to exposure tournaments, camps, and weekend exposure events. To make things worse, college coaches now have Covid-19 restrictions that prevent them from recruiting in the traditional ways they have been doing for the last 20 years," Coach Jim Santoro said. Coach Santoro is the Director of Edge Athletics and Head Men's Basketball coach at Our Lady of Lourdes High School. During his tenure, he has helped over 100 athletes get the next level.
"After our Spring AAU program was delayed, we modified it to conform with the requirements that local government officials placed on us to help contain the spread of the virus. I then realized that a recruiting problem was developing," Santoro said. "It's now more important than ever to help our juniors and seniors make that connection with the handful of college coaches that will be a good fit for them."
Don't let other programs fool you. They boast about their ability to better promote athletes because they are deep into the social media scene. They try to convince athletes to play in their program as a way of promoting themselves. Although social media platforms like Twitter and Instagram are highly popular and used to "advertise" athletes, it is no substitute for the hands-on and eyes-on approach to evaluating an athlete. Ask any college coach. In fact, social media accomplishes very little despite what some programs will tell you. "The social media platforms don't really get the job done in terms of making the direct connection between athlete and coach. Coaches are just inundated with the barrage of likes and follow requests that it just becomes ineffective," Santoro said. Other programs do great things providing an opportunity for many athletes to play basketball. But like any other profession some will just make claims they can't fulfill just to try to get ahead. Just be wary of promises some of them make.
Thats why Edge Athletics is bringing more and more college coaches to its workouts. "Between myself, Coach Jordan, Coach Petruzzelli, and the rest of our staff, we have hundreds of contacts within the college coaching circles throughout the northeast and beyond. And since their schedules and recruiting processes have changed, we had to improve our own process to get our athletes in front of coaches. So we created player profiles for college coaches to review and invited them into our gym to get a first hand look at their skill set." So far in just the last two months, coaches from a diverse set of schools have come to watch Edge Athletics athletes in action.
"It's been great for the kids. We have been systematically inviting coaches in and directing them to those athletes that might be a good fit for their school. They are currently 'recruiting' many of our athletes in a critical time of the process. Some of them have already gone on college campus visits as a result," Santoro said.
So who has been to the Poughkeepsie Day School, home of Edge Athletics? Daytona State, Ulster, Western New England, Vassar College, and Utica College to name a few. Siena college, Quinnipiac, Rhode Island, and Keene State are scheduled to come in the coming weeks. Given the drive, motivation, and connections that Santoro and his staff have, there are sure to be many more on the way!
As a side note, in talking with Santoro he said that he will be hosting a recruiting seminar for the Edge Community in the very near future. "I plan on helping parents and athletes understand the recruiting process and the best way to go about it. I may also offer it to those outside our Edge community but I will have to see how the high school season plays out."