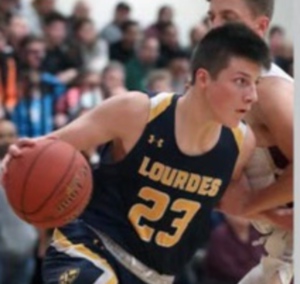 Hart Getting an Edge
— December 22, 2020
Last year's high school boys basketball season seems like a distant memory. Although most area teams were fortunate enough to complete their seasons, the pandemic quickly and systematically shut everything down. The effects are painfully obvious and have impacted everything. For some seniors, dreams of continuing their basketball careers in college were dashed.
One senior who is trying to defy the odds is Willy Hart, a point guard for Our Lady of Lourdes High School. After a very successful junior year in which the captain guided his team to a 13-7 regular season, Hart was looking forward to spring AAU where he could continue to improve his skills. Spring is also the beginning of the post-season college recruiting process.
"I remember planning our Edge Athletics program knowing we had many athletes that had college level potential," said Jim Santoro, director of Edge Athletics and head coach at Lourdes, where Hart has played for him since the ninth grade. "We had planned on bringing in college coaches to watch our practices as an enhancement to exposure tournaments."
Well, due to COVID's onslaught, the practices were shut down a week after they started, and all of the tournaments were cancelled. April, May, and June were eliminated for athletes hoping to work on their skills. But Hart turned an obstacle into an opportunity.
"I was pretty upset and disappointed because I didn't know what was going to be next for me because it seemed like there were so many uncertainties," Hart said. "I decided to take advantage of the time off and work out and run every day. I thought I could improve myself with the resources I had that maybe other players didn't."
It wasn't until early July when restrictions for at least some levels of basketball were relaxed, allowing Hart to get back on the court. And back he came.

"When I saw Will for the first time in months, there was something very different about him," Santoro said. "He was a little leaner, a bit taller, and after watching him workout…he was a lot more determined."
During the shutdown, Willy spent his time in a makeshift weight room that he had in his house, something his coach had been pushing him to do for the last year. The strength he acquired enhanced what already was an advanced skill set – which is much needed if one hopes to play collegiately.
It didn't take long for Santoro to conclude that his point guard had become college-level material, which hadn't been a certainty the previous season. In fact, Santoro realized it after just three consecutive days of workouts.

"After that third day, I was convinced that Willy had a shot not only to play in college, but to play at a higher level," the coach said. "He was shooting the ball incredibly well from behind the arc, he was much stronger to the basket and his athleticism seemed to come out of nowhere even throwing down a one-handed dunk with ease."
Combine that with his already great court vision, high basketball IQ and the fact that he grew to 6'3" and you have a college-ready player.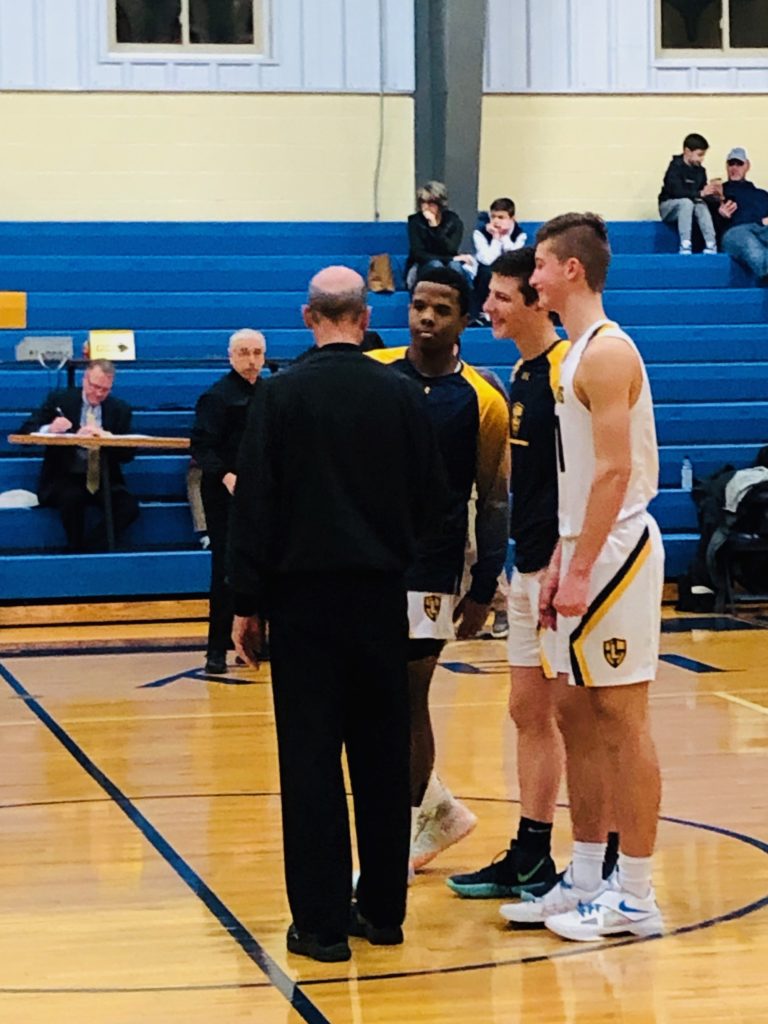 Santoro acted quickly, soliciting input from assistants Tom Jordan, Matt Petruzzelli, and Matt Covucci. All agreed that Willy had made significant and impressive strides.

"I have to admit, I was a little skeptical when coach (Santoro) told me about Willy. I mean…it was only 3 months. How much could happen in 3 months?," Petruzzelli wondered. "But I was somewhat in awe after I watched him play for the first time since the regular season ended."
Coach Jordan's reaction wasn't too much different.
"After Willy had been back in the gym for a week or two, I had a chance to work with him along with some current Division I players," Jordan recalled. "Although Coach Santoro had told me what to expect, I still was a little surprised at what I saw and how well he competed against them. He had the tools and it was just a matter of Willy wanting it and working at it."
Covucci's initial response after seeing Hart throw one down?
"Wow, where did that come from," he joked.
Known for being fairly reserved about over-promoting his athletes, Santoro was thoroughly impressed and felt he should tell Hart what he thought his level of potential was.
"Willy needed to hear it from me because I knew how modest and critical he was of himself," Santoro said.
When Santoro broke the news to Hart, offering him an honest assessment of his talent, the youngster's reaction was predictable.
"I was really surprised and didn't really believe him at all," Hart said. "My whole life I've always been small and unathletic and the only thing that kept me competitive was my IQ and skill. I know how hard it is to play at any level in college and I couldn't imagine myself being there."
But, after Hart digested his coaches comments, he became somewhat excited and sent Santoro a text message that night, making it clear his desire to push himself to fulfill the potential the coach saw in him.
"I want it coach and I'm willing to work as hard as it takes," he wrote. "I understand that even D3 is no joke and D1 especially is another level. I understand the talent and time it takes to go D1 so I know if I'm not good enough I'm not good enough and I'm fine with that. With that being said I want to get everything out of this next year for our team and myself so I'm going to continue to do everything in my power to do so. I'm all in."
For the rest of the summer, he would invest hours each day in the weight room and even more hours working on his game.
Those hours included being outdoors at the parks and indoors training with his Edge Athletics team. But without the benefit of tournaments or camps, the opportunity for Will to get that necessary exposure was diminishing. To make matters worse, there was also talk of the high school sports season being delayed or even cancelled.
That's when Santoro began to lean on some of his college contacts, first reaching out to Martin McCann, head coach at Daytona State, a Division I junior college in Florida. McCann, who once played for Santoro, is a young coach who is quickly moving up the college ranks.
"I remember the first call I got from Coach Santoro and was intrigued by how excited he was about Willy," McCann said. "Coach doesn't oversell his athletes so when I was listening to him describe Willy and how confident he was about his potential, I knew there was something definitely worth looking at."
Since then, McCann has tuned in to several of Hart's workouts with his Edge team through Zoom.
"I'm not quite sure what level Willy can play at yet, but we continue to evaluate him," McCann said.
Not only is McCann following Hart's progress, but the Edge gym has become a stomping ground for college coaches at every level – and not just through Zoom. Coaches are physically visiting the gym to get a glimpse of Hart along with several of the other top players in the county. All of this was new to Hart.
"There was a sense of surprise and a shock of reality that it was actually happening," he said. "Coach had talked about it, but to actually see them there in person and be able to talk to them was great."
In addition to being observed by college coaches, players have an opportunity to work with Jordan, Petruzzelli, and Covucci, assistants who are considered among the best skills trainers in the area.
"The workouts are incredibly important, not only because of the college coaches but because so many other schools and players do not have the resources that Edge provides," Hart said. "So many players are stuck at home still with no way to stay in shape and continuing to play. The workouts are a way for all of us Edge players to gain an advantage over other schools and programs."
The process has not only led to interest from college coaches, it has started the recruiting process for Will. He has already toured college campuses and plans on going on several other trips after the first of the year. He's not exactly sure how this will all play out or where he will ultimately land, but he feels good about where he is.
"I feel a lot better and have a lot more confidence in my game and my ability to play at the next level," he said. "I'm looking forward to hopefully finding a home in college to play and get a great education."
One thing is for certain, Hart is not allowing the pandemic to inhibit his goal of playing college basketball. The many coaches that involved with recruiting him are also very happy to hear that.
Check out Willy's highlights prior to his transformation!