#9. 2013 SECTION 1 CLASS B CHAMPIONSHIP: LOURDES 85, DOBBS FERRY 80 (OT)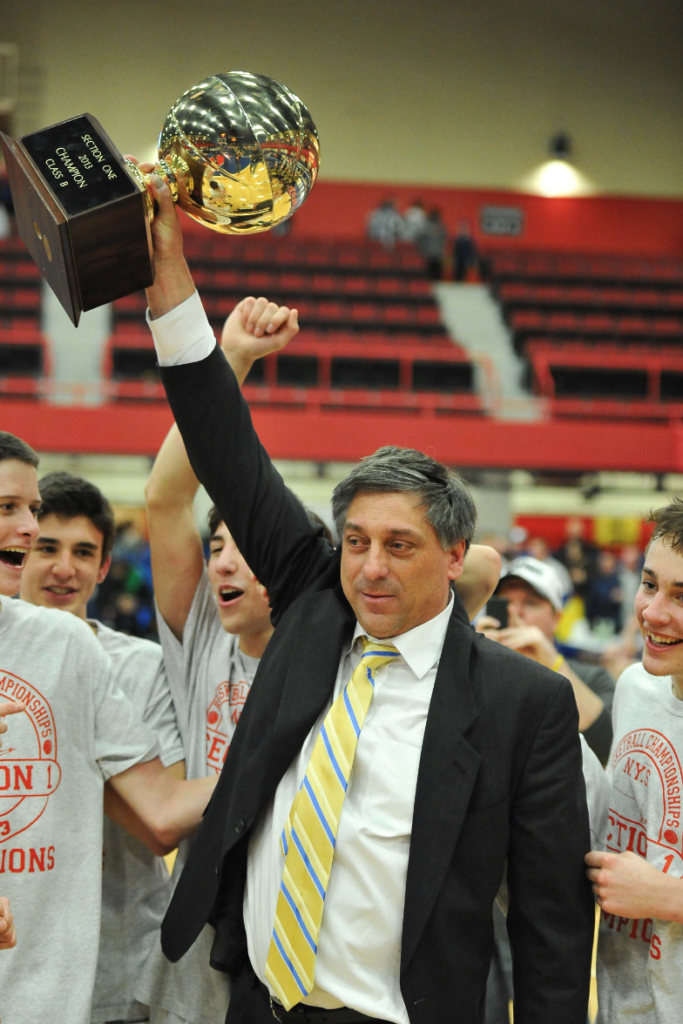 Game recap: Most remember this game as Dobbs Ferry vs "Lourdes Who?" Yes, thats right, Dobbs Ferry featured Eric Paschall, the top player in section 1 that year and maybe the decade. But who was this Lourdes team? They came out of nowhere, featured no-one, had only eight players on the roster, and quietly made their way to the County Center. Quietly until after they dismantled Putnam Valley in the semi-finals. Paschall and the rest of the Dobbs Ferry team gave Lourdes everything they could handle, but Lourde's dizzying offense and tenacious defense proved too much for the "underdog" (Lourdes was the higher seed but clearly everyone in Westchester County thought Dobbs was a sure winner. Even the ref…I'll get into that later).
The game was a see-saw thriller that included a monster dunk by Paschall with under a minute to go in the first quarter and half court buzzer beater by Jack Kolosky to tie the game at 17. Lourdes used a 10-0 run to start the second quarter but Dobbs would come right back and both teams went into halftime knotted at 32. Justin Rhynders began his offensive tear in the first half, matching every big point Paschall had with points of his own. Rhynders also had the daunting task to guard Paschall and held him to just 5 first half points while tallying 8 himself. It was the beginning of a dual that would continue for the rest of the game.
Lourdes not only put on a gutsy man to man defensive performance in the first half with their limited roster, but maintained it through the second half and overtime despite foul trouble. Lourdes, knowing that coach Patrillo would make some adjustments for the second half to increase Paschall's point production in the paint, still stayed with the man. Paschall went right to his inside game following a three pointer from the corner to start the second half. That would cause problems for the limited Lourdes roster and the fact they had no one that could match his size, strength and ability inside. But Rhynders wouldn't bend and with the danger of getting into foul trouble, began to muscle Paschall out of the paint. Paschall would move out to the perimeter after the third and began showing his NBA range. Mike Donnelly made his presence known in the second half with a steal and several trips to the foul line. Kolosky hit another three pointer from the top of the key to retake the lead in the third quarter, and Lourdes would finish off the quarter with a 52-47 advantage. Paschall opened the fourth with a long three and later hit another deep three to give the Eagles a 57-55 lead with 5:22 to go. Lourdes went on a run to go up 7 with 1:48 left before Nick Kost hit two crucial shots, including a three to pull Dobbs back within one with under a minute in regulation.
Kost came up with a steal and layup with 45 seconds to go to give Dobbs a 69-68 lead. Nick Porter followed with a three-point play for Lourdes to make it 71-69 but Dan Foresti scored on a feed from Dan Riefenhauser with seven seconds left. Kyle Santoro received the inbound, drove to half court to feed Nick Porter who was fouled at the buzzer but no call was made sending the game into overtime.
In overtime, Lourdes struck first with a Donnelly put back and one, putting Lourdes up three. Paschall later hit another deep three to give the lead back to Dobbs, but Rhynders quickly answered with a three of his own putting Lourdes back up 77-76 with 2:10 to go. Paschall answered with a transition layup continuing the seesaw battle. Donnelly was fouled after getting an offensive rebound but only converted one knotting the game again at 78 with 1:22 left in OT. But Kyle Santoro would go to the foul line six times in the last minute sealing the victory for Lourdes. Santoro would finish with 16 points for the game all coming in the last 8 minutes on 14 for 15 shooting from the foul line.
The Hero: The entire Lourdes team, all eight of them. Eric Paschall won the MVP in a losing effort which he would have easily deserved if his team won. Lourdes was just too gutsy and each player made contributions that helped the team overcome a dominant performance by Paschall. Even Lourdes' Nick Fasone, Steve Latino, and Peter Gregory, who came off the bench made significant contributions and all five Lourdes starters scored in double figures. Mike Donnelly lead Lourdes with 21 points. Justin Rhynders had 20 points including 6 for 10 shooting behind the arc matching Paschall basket for basket, all while defending Paschall the entire game. Jack Kolosky also had 20 points to go along with his 10 rebounds. Nick Porter controlled the interior boards. And Santoro had eight assists to go along with his 16 points. Hard to pick an MVP from that lineup. Maybe that's why it went to Paschall!
Why it's Top 50: This was a shot-makers games. Lourdes could score from every spot on the court and from every position. Dobbs Ferry obviously had Paschall, the best player to come through the section in the decade but also had a very strong supporting cast. No one gave Lourdes much of chance, but could not dismiss the performance by Lourdes the game before against top ranked Putnam Valley.
Lasting image: There were three lasting images. The first came at the end of regulation after the no call at the buzzer when Nick Porter got hammered. I will talk more about that one as an added feature below. The second image was of the Lourdes team watching Kyle Santoro sink five free throws in the last 24 seconds sealing the game as if they knew he was going to make them. You could see Kolosky hobbling off the court with a calf cramp but still with the expression of anticipation. And finally, seeing Paschall accept the MVP award despite losing the game. I honestly think he was surprised to receive it. After all, a no name Lourdes team had just beaten him and his supporting cast and the MVP almost always go to someone on the winning team. For Paschall, it was a performance that secured his title of Mr. Basketball for section 1 and was the start of a career that we now all know led to his current NBA status.
The Ref: A story that most people don't know. And it's not sour grapes…Lourdes won the game. But after the game, after all of the interviews were done, I walked past a group of officials that were getting ready to watch the next game, one of which was an official that was on our game. He stopped me to congratulate me on the win. But also made the mistake of trying to explain to me why he didn't blow the whistle at the buzzer that would have put Porter on the foul line to potentially win the game. His reasoning was that although he thought it was a foul, that he thought it wasn't "enough" of a foul to call it knowing the game would be decided in overtime. I respectfully disagreed with him but did not argue or dispute anything. We had won, their wasn't any reason to make an issue of it. In fact, I wouldn't have made an issue of it even if we had lost.
But Then….later that night at home I had a chance to review the game film. And guess what. You can look for yourself. But that official can be seen crossing his arms signaling the game was over after Porter missed the last second drive , and then quickly walked off the court heading to his dressing room. You see him come back after one of the other officials beckoned him. That ref thought Dobbs was up by a point…not tied. He was not going to put Porter on the foul line and risk Lourdes sending the game into overtime or even winning. Nope, that no call, he thought, gave Dobbs the championship. So much for the County Center being neutral!