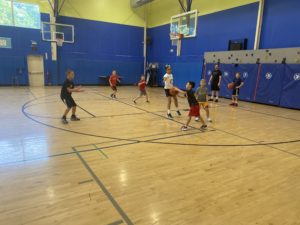 Edge Athletics offers winter youth league
— November 3, 2021
November 3 Update: We now have an option to pay via Venmo. If you wish to pay electronically via Venmo, please text me at 845-264-5078 and I will send you the Venmo user id.
Two evaluation days have been scheduled for Monday, November 8 and Wednesday November 10. These evaluation days will be used so that our coaches can create the teams for each division. We are hoping to have the teams finalized shortly thereafter so that practices can begin. It is important that all athletes make both evaluation sessions. The times are as follows:
Grades 4/5: Monday and Wednesday 6:00pm – 7:15pm
Grades 6/7: Monday and Wednesday 7:30pm – 8:45pm
October 31 Update: Registration has been closed but a waiting list for the Winter League is still open. As of now we have commitments from approximately 50 athletes. We consider a commitment made when we receive payment. Some of you have indicated your intentions and have scheduled payment for this week. That is ok, as long as we know. We will extend the payment date to this Thursday. At this point, sending a check in the mail is probably not the best option since mail is now taking in excess of a week in some instances. If you have sent or plan on sending a check by mail, please respond to the alert text indicating such. We will be at the Poughkeepsie Day School Gymnasium each day this week as follows: Monday from 3:30 to 6:15pm, Tuesday from 4:00pm to 8:30pm, Wednesday from 3:30 to 6:15pm, and Thursday from 4:00pm to 8:00pm. Please let us know if you plan on stopping by during these days since we will be in the gym conducting training sessions.
After Thursday, we will take those from the waiting list. It is important that we receive payment so that we can move ahead and plan the league accordingly. We want to start with team formations next week!
Also for those that have registered but are NOT intending to play, kindly let us know so that we can give your spot to someone else.
There will also be another meeting for those that missed the first one. That will take place this Thursday at 8pm at the Poughkeepsie Day School Gym.
We are going to acce
October 24 Update: Registration is now closed. There will be an information meeting on Thursday, October 28, at 8pm. The meeting will take place at the Poughkeepsie Day School gymnasium (Buccelli Athletic Center), located at 260 Boardman Road in the Town of Poughkeepsie. This is the site of all practices and games. This meeting will give us an opportunity to explain how the league will operate, logistics of team formations, procedures and protocols, etc. It will also give all of you an opportunity to ask whatever questions you might have.
Tuition can be paid at the conclusion of the meeting. If you cannot attend, please ensure you send in your payment per the email you received upon registration. You may call me at 845-264-5078 to make arrangements for payment on another evening.
All payments must be made no later than Monday, November 1. This will ensure that we can begin the process of creating teams and schedules as soon as possible.
We are really looking forward to getting this league rolling. Our kids are ready and eager to play!
October 18 Update: Some have asked about the practice time slots. Although the days and times are not set yet, we anticipate scheduling practices at 5pm, 6pm, 7pm, and 8pm with the earlier time slots going to the younger division. For efficiency and schedule reasons, we are trying to schedule all of the teams to practice each day. We have some flexibility for this and will try to accommodate everyone's schedule as best we can. Once registration is closed, there will be a meeting for all parents and coaches to finalize . The following would be an example of a practice week:
4th and 5th Grade Division:
Team 1: Tuesday, 5pm
Team 2: Tuesday, 6pm
Team 3: Thursday, 5pm
Team 4: Thursday, 6pm
6th and 7th Grade Division:
Team 1: Tuesday, 7pm
Team 2: Tuesday, 8pm
Team 3: Thursday, 7pm
Team 4: Thursday, 8pm

October 17 Update: Registration for the winter league will close out on Sunday, October 24. If you still wish to play in the winter league, you must register no later than Sunday. More information will be provided once registration is closed.
Just when we thought things were returning somewhat back to normal, youth basketball for this winter is now in question. The Catholic Youth Organization (CYO), typically the staple for winter basketball for our young athletes, has been delayed into November. That delay has caused some to speculate as to whether CYO will once again cancel due to the persistence of the COVID-19 virus.
To fill that void, Edge Athletics is offering a youth basketball program for boys that will include practices, training, and games. Registration is open to all 4, 5, 6 and 7th graders.
Program Details:
4 months of practices and games. Practices will be held once a week for an hour. Games will be played on Saturdays.
All practices and games to be conducted and coached by volunteer coaches.
All games will be officiated by the coaches that are NOT playing.
We anticipate having four teams in each of two divisions. Each team will play a nine game schedule plus a single elimination playoff tournament.
Additional skills sessions MAY be provided by coach Tom Jordan, Jim Santoro and other guest coaches.
Registration fee – $300. There is a $25 ($275) discount for those athletes that were part of our spring 2021 AAU program, attended a summer camp in 2021, or are currently in our Fall program.
Frequently Asked Questions:
Q. Where will the program take place?
A. All practices and games will be held at the Poughkeepsie Day School.

Q. When will the program begin and end?
A. Registration is now open. We plan on beginning the week of November 15 and concluding the second week of February.
Q. What days and times will practices and workouts be?
A. Practices will be held Monday through Thursday beginning at 5pm. Exact days and times will be determined after registration is complete.
Q. Will there be tryouts?
A. No. This program is open to all athletes within the designated ages.
Q. How will teams be formed?
A. After registration is complete, all athletes will be required to participate in a practice scrimmage so that the staff can evaluate the skill set. Coaches will then draft the teams with the objective of creating the most balanced teams possible.
Q. Can I request to be put on a specific team?
A. No. The teams will be formed with the sole intent of creating the most balanced and competitive league.
Q. Will the teams be required to purchase uniforms?
A. No. T-shirts will be provided to designate the different teams.
Q. What is the registration fee?
A. The registration fee is $300 for each athlete. There is a $25 discount for all athletes that were in our spring 2021 AAU program, attended one of our summer camps in 2021, or are currently in our fall program.
Q. Are there any additional fees?
A. Maybe. This is an AAU based program. Each athlete is required to have an active AAU membership for insurance purposes. If you have an active AAU membership, you do not need to purchase a new one. We will need your membership number. If you do not have an active AAU membership, CLICK HERE for the membership website.
Q. Will you be running a program for the girls?
A. Not at this time. Unfortunately we do not have the capacity to offer a girls program.
Q. How do we register?
A. Registration will be done through the Edge Athletics website. If you already have an account with us, it's pretty easy. Just log into your account from our homepage and register like you did for the spring and fall program. If you do not have an account, you can create one by going to the homepage and follow the instructions or Click Hereto create your account.
Q. What will be the protocols for COVID-19?
A. All athletes will be required to follow whatever the protocols are at that time. Additionally, practices are limited to athletes and coaches only. No others will be allowed in the building. Each athlete will be permitted 1 spectator for the games on Saturdays unless the conditions change and restrictions are mandated by local and state officials.
Q. If I have other questions, can I contact your directly?
A. Certainly. Feel free to email me at info@edgeathletics.com, call or text me at 845-264-5078.