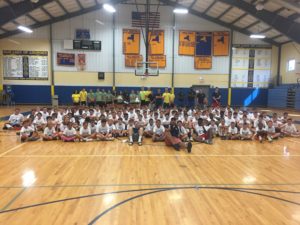 Introducing Edge Athletics Virtual Training
— June 6, 2020
Free Virtual Training to be offered by Edge Athletics
The COVID-19 pandemic has shut down youth sports across the country leaving all of our athletes no place to go and nothing to do. We must do the things that are necessary for our country to get through this and get back to some kind of normalcy.
Until that happens, basketball players need to get creative to keep themselves in the best shape possible given the limitations. To help, Edge Athletics has implemented Virtual Training sessions every Tuesday, Wednesday, and Thursday. Specialized Clinics will be offered through the summer as well.
These 1 hour sessions are led by shooting instructor Coach Jim Santoro, skills trainer Coach Tom Jordan, , and team Coach Matt Petruzzelli. Guest appearances will also be made by current and former high school and college players. The schedule is posted for each training session so that you can easily follow along. The sessions are interactive and the coaches provide live feedback to the participants.
You don't need a fancy gym to participate. We conduct and broadcast live the training sessions right outside Coach Santoro's house (weather permitting of course). All you need is a space, a ball, and a will.
There is no need to pay a fee for a virtual camp or training session. Our training session are currently being offered FREE! And you will learn from the best and most experienced coaching staff in the Hudson Valley.

Get off the couch and out of the house and join us!
Click Here to check out the daily schedule
Check out one of our sessions by clicking the link below.
https://us02web.zoom.us/rec/share/vfNVMKrr3GJJTZHwuR72X4oqQ464T6a82ihN-fMNnU3H5vDA2tc_hqK0bI5ipxL8?startTime=1591286680000