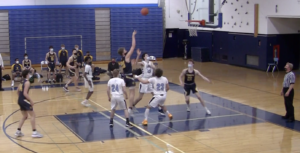 Lourdes "Rapps" John Jay Patriots
— March 4, 2021
Our lady of Lourdes boys basketball team continues to develop a reputation for physical play, defeating the John Jay High School Patriots 75-48 in a league contest on Wednesday night. The warriors have the most physical team in recent years, maybe even more physical than the team that featured Lourdes all time leading scorer and power forward James Anozie.
The power of Lourdes is led by Andrew Rappleyea, a 6'4′ junior who brings a presence inside the paint not seen since Anozie. But he's not the only force opposing teams now find themselves having to contend with. Jason Schofield, a 6'7″ sophomore starts alongside "Rapp," and Chris Faughnan, a 6'5″ Junior comes off the bench to give the Warriors even more size. And the backcourt? Jackson Pelish and Jake D'Auria, the Warriors sharp shooting starting guards both stand at 6'3″ and 6'2″ respectively. And then theres Willy Hart, the 6'3″ point guard that brings all of that size together.
Lourdes who improved their record to 5-2 with the win went to work early with Rapp making his presence known with his shear strength and aggressive style of play scoring 4 of his 13 points in the first quarter. But his low post partner, Jason Schofield, who also doubles as a two guard, was the beneficiary of Rapps presence, scoring 8 of his game and career high 23 points in the first quarter. The Warriors grabbed a 24-9 first quarter lead and never looked back.
"I thought they played very well," said Hart of his big men. "Jason continues to get more and more comfortable and confident every game and Rapp dominated inside on both sides of the floor. And Chris continues to give us solid minutes coming off the bench," Hart added.
Lourdes took advantage of their size and strength early and simply just overpowered a scrappy Jay team who came off an impressive victory over Arlington High School the night before. The Lourdes defense held Jay's leading scorer and offensive catalyst, Liam Ryan, to just 7 points.
"We played strong tonight," Coach Santoro said of his front court. "I've been pushing the entire team to use their size to their advantage and I think they did that tonight," Santoro added.
The Warriors are a talented team with depth in every position. They have improved to 5-2 and have won four straight. With upcoming games against perennial powers New Rochelle and Poughkeepsie, the Lourdes boys will need every ounce of that collective size and strength.
"We have already lost to Poughkeepsie in our season opener and New Rochelle brings their highly ranked team into town tomorrow night. We will need every ounce of effort to hang with these guys on back to back nights," Santoro said.
Rappleyea, who sat out most of the second half with a minor injury to his leg, had 13 points and 9 rebounds. Schofield notched a double double with 11 rebounds and 3 block shots to go with his 23 points. And Willy Hart scored 7 points, handed out 9 assists, and pulled down 7 rebounds.
Lourdes will have its hands full the next two days, but Rappleyea and his army of size will certainly try to make their presence known early in the evening. If they can do that, victories in both of their upcoming games will be in reach.