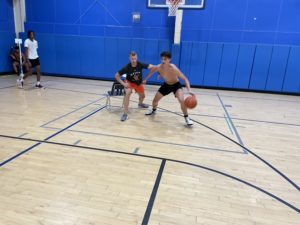 Peak Performance Basketball challenges top local talent
— September 3, 2021
The Peak Performance Basketball program offered by Edge Athletics certainly lived up to and exceeded the expectations of all those that attended. This two week program, offered to the top talent in the area by invitation only, had four elements of training that are necessary for those athletes that aspire to play at the collegiate level. Those elements included skill work, scrimmaging, shooting, and strength and conditioning. For a more in-depth description of the program, click the Peak Performance Basketball link for the actual program offering.
Coach Jim Santoro, the Director of Edge Athletics and Head Men's Basketball coach at Our Lady of Lourdes High School, first conceived the idea after consulting with his staff Tom Jordan, Matt Petruzzelli, and Matt Covucci. They all recognized that athletes had to pursue different avenues and pay high prices to get the training they needed. Santoro wanted to consolidate all of the training elements for basketball players into one all encompassing program. His staff agreed, and together, they created Peak Performance Basketball (PPB).
"Most athletes that have the skill set, athleticism, motivation, and academic standing necessary to play ball in college sometimes don't really have an affordable and practical routine that will help them achieve their goals," Santoro said. "And those that do, have to go to different gyms, instructors, and trainers to get what they need," he added.
That all changed with the PPB program. It offered all of the training that athletes seek in one location. All that was needed were the best players in the area. After consulting with various high school coaches and AAU programs, the four coaches created the invitation list that was sent out to only the top players of different ages and from various counties.
"The idea was to send out personal invitations to those we identified, recognizing that all that were invited would not or could not attend for whatever reason," Santoro said.
Forty athletes were invited. The staff was hoping to get between fifteen and twenty from that forty. Twenty attended but some couldn't make it through and dropped out leaving eighteen. So what did the eighteen do for four hours a day, three days a week, for two weeks? They did what future collegiate athletes do. Train. And train hard.
"I attended many camps and clinics as a player including HoopGroup and Top 100 exposure clinics. But I have never had the opportunity to do something like this. Those that attended got a realistic experience of what athletes need to do to get to the collegiate level," Coach Jordan said.
"We didn't really know how the athletes were going to respond to the workout. They were pushed hard. Some of them made comments to me like "what did i get myself into?" And, I have never worked so hard in my entire life. Some didn't make it through and dropped out. But we expected that," Jordan added.
Part of the concept was to show the athletes what they could do on their own…without the need of expensive trainers and fancy equipment. According to Santoro, although you may not be able to do everything on your own, there is a lot you can do.
"You can work on your skills on your own, you can work on shooting on your own, you can do whats necessary to increase your core strength and conditioning on your own, and you can certainly find outdoor courts to play pickup. We wanted to not just tell the athletes what they should be doing, but also to show them how to do it…on their own, in a consolidated time frame and in an efficient manner," Santoro said.
So basically, the athletes worked on their skills and shooting, then scrimmaged. They finished the night with strength/conditioning. And the best part? All of this was done in front of college coaches. That's right, college coaches attended every session.
"We not only invited the top players in the area. We invited college coaches to attend and to instruct. Some of the coaches chose to just watch, but others wanted to take one of the training segments," Santoro said."
Coaches from all over the Northeast and South attended. In all over twenty coaches representing sixteen colleges from Divisions 1, 2 and 3 came to watch. Coach Sean Coffey, the head coach from Utica College, was one that chose to lead a training segment.
"It was enjoyable as a college coach to have the chance to observe young players being pushed physically and mentally within a structured setting in which they could compete, make mistakes, and be coached with the goal of growing as a player and person," coach Coffey said.
Mike Duffy, a former assistant at Western New England College and now current assistant at New Paltz college was also in attendance one day for the full four hours. He had this to say..
"Appreciate coach Santoro for having me at Peak Performance Basketball last night. These young guys were getting after it. Core workout and conditioning after three hours of practice and scrimmages. Highly recommend if you're a HS player in the HV looking to play at the next level!," coach Duffy tweeted.
So what did the athletes think? Here are a few quotes.
Jace Emerson, a rising freshman at Trinity Pawling: "It was an amazing program and it gave a chance for athletes to evolve their game. Getting through each segment was very challenging but all of the guys here were great athletes and they all fought through it. Coach Santoro has a lot of connections so having all of these college coaches in attendance was no surprise and it was great working out in front of them."
Chris Faughnan, a senior at Our Lady of Lourdes High School: "There were a lot of college coaches that came to watch us and that was helpful for those of us that needed exposure. In fact, I was offered a spot on the Utica College team after the first night. The six days were very tough. Four hour workouts were difficult and required great physical and mental toughness. Some parts were easier than others but for the most part they were all incredibly demanding. Although I was expecting this type of challenge since I have been working with Edge Athletics for years, I don't think I have ever worked so hard for so long. This definitely helped me prepare for the next level and would recommend this for anyone that is aspires to play in college. But be prepared to work your butt off."
Jake D'Auria, a senior at Our Lady of Lourdes High School: "I thought this was going to be a breeze. I should have known better since it was an Edge program. This six days really showed me how to manage my time and get the most out of the time I spend on the court shooting or in the weight room. I didn't realize that you could get so much work in less time, and thats what we did for four hours each night. Finishing every night with a two mile run, after the strength and conditioning part was brutal but I know that's what I know I will be doing at the collegiate level."
One of the athletes said to me as they were starting their two mile run outside in the dark to finish off the night…"This is crazy. Who does this?" Collegiate level athletes…thats who!
Look for Edge Athletics to run something similar in the fall for ALL players!
Check out the videos to see what these athletes did.