Peak Performance Basketball – Summer 2021 College Exposure
Click Here for pictures and Videos from this session
Peak Performance Basketball Challenges Local Talent – Article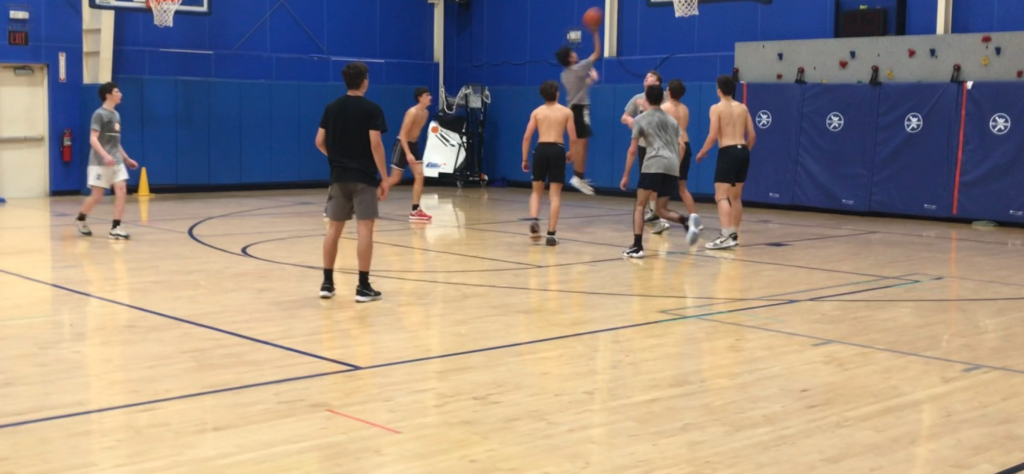 Edge Athletics is excited to announce Peak Performance Basketball (PPB), the most comprehensive training program for boys in the Tri State area. Located and run at the Poughkeepsie Day School Gymnasium, this high intensity program is designed for advanced basketball players and is open by APPLICATION AND INVITATION ONLY. This means that any athlete that completes an application must be approved by our staff and will be notified of their acceptance. Our coaching staff will be sending out specific invitations to only those qualified athletes in the area.
Do you play basketball to train…or do you train to become a better basketball player? The PPB program is one stop shopping for the elite and aspiring basketball player. Our goal is to provide a program that strictly, uniquely, and specifically supports the development and advancement of the basketball player to prepare him for the highest level. There is no need to go anywhere else. Everything you need is right here in this all encompassing program!
Five components will makeup each training session. The five components are, Skill Refinement, Shooting Gallery, Team Practice, Full Court Scrimmages, and Strength and Conditioning. In addition, this program will create the best opportunity for athletes to get in front of college coaches.
The PPB program includes:
6 Days of training.
Each training session will be 4 hours
Sessions will be conducted by the PBB staff including Coach Jim Santoro, Coach Tom Jordan, Coach Matt Petruzelli, and Coach Matt Covucci. Other guest College Coaches will also be in attendance.
Skill Refinement – This component will include practical college level ball handling applications to enhance the athletes ability to create space, handle defensive ball pressure, and penetration moves.
Shooting Gallery – With the use of 4 Shootaway Guns and the NOAH system, athletes will will get hundreds of shots up in small groups.
Team Practice – Varsity level practice content that will include what is typical for preparing for a regular varsity game schedule.
Full Court Scrimmages – In a controlled setting, the athletes will have the opportunity to scrimmage in a highly competitive environment that will create live game situations.
Strength and Conditioning – Designed to enhance the basketball players skill set, the strength and conditioning segment was created in consultation with the Center for Physical Therapy and the Marist College Strength and Conditioning coordinator and will feature basketball specific actions to improve endurance, speed, quickness, and jumping.
College Exposure – For those athletes that are ready for the recruiting process, our network of college coach contacts is the most extensive of any program. College coaches will be attending portions of or all of the training sessions either by Zoom or in person.
Frequently Asked Questions:
Q. When will the program begin and end?
A. The program will begin on Tuesday, July 20. It will run for two weeks.
Q. What days and times will practices and workouts be?
A. There will be 6 sessions. Tuesday, Wednesday, and Thursday from 6pm-10pm for two consecutive weeks beginning on July 20.
Q. Will there be tryouts?
A. No. This program is by invitation only. THIS PROGRAM IS DESIGNED FOR THOSE ATHLETES THAT ASPIRE TO PLAY AT THE COLLEGE LEVEL. In order to maximize preparations for the upcoming season, we are seeking the TOP players in the area.
Q. How many athletes will participate?
A. There will be a maximum of 24 players.
Q. Will all 24 player be grouped together?
A. No. There will be two groups working concurrently. The groups will be formed based on a number of factors including but not limited to age, grade, skill set, and position.

Q. Can we apply to be invited?
A. Although this will be invitation only, we recognize that we may miss inviting a qualified athlete. So, yes, you can apply. You will be notified of your acceptance.
Q. you mentioned that this a program for boys. Will there be a girls program available?
A. Yes. We plan on offering this program to girls and are currently working on specific dates. We will announce a girls program in the next few weeks.
Q. What ages or grades are eligible?
A. This program is open to those athletes entering their sophomore, Junior, and senior years.
Q. Will we be playing in tournaments?
A. No. This program is not intended to compete with or against AAU programs.
Q. If you are not going to tournaments, how will the athletes get the most benefit?
A. Our program is designed to provide a varsity level practice session each day with the intensity level that will help prepare them for the next level of play.
Q. Will college coaches be in attendance?
A. Yes. We plan on having several college coaches work with us and you, taking specific training blocks during the two weeks. Additionally, college coaches will be in attendance observing some or all of the workouts.
Q. What is the tuition for this program?
A. The tuition is $350.
Q. When is tuition due?
A. Tuition is due July 1. We will also designate a day for you to come in and make the payment.
Q. Is there a tryout fee?
A. No. There is no tryout so there is no tryout fee.
Q. Is there a uniform fee?
A. No. Since we are not playing in tournaments, there is no need for a uniform, and, therefore, no uniform fee.
Q. Do we need to have an AAU membership?
A. Yes. All participants must have an active AAU card and provide to us upon registration.
Q. How do we register?
A. Registration will be done through our website. If you already have an account with us, its pretty easy. Just log into your account from our homepage and register like you did for the spring program. If you do not have an account, you can create one by going to the homepage and follow the instructions.
Q. If I have other questions, can I contact your directly?
A. Certainly. Feel free to email me at info@edgeathletics.com, call or text me at 845-264-5078.