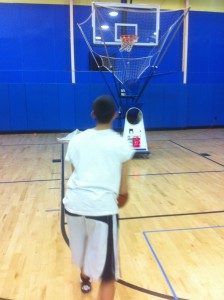 Skills Development and Shooting Instruction Available This Summer!
— June 23, 2015
Edge Athletics is now offering a summer skills development program for all ages.  Our skill development programs are designed to help boys and girls of all skill levels improve the fundamentals necessary to become better basketball players. We have various programs available for their development, ranging from one on one training to small groups.  All sessions are conducted at the Poughkeepsie Day School from 4pm till midnight, Monday – Friday.
Contact us info@edgeathletics.com or call 845-264-5078 for more information or to arrange for sessions.
Individual and Small Group Shooting Instruction – Work with Coach Jim Santoro to improve your shooting.  Coach Santoro will video your shot and provide a complete analysis of your shooting technique.  He will then provide you with a step by step approach on modifying your shooting form and work with you personally to help you develop into the best shooter you can be.  Sessions are flexible and priced on a weekly sliding scale to encourage shooters to shoot correctly and shoot often.  He will work with an individual athlete or with a small group of up to four athletes.
Individual and Small Group Skill Development – Work with Coach Kelby Santoro to improve your overall skills.  Kelby, now a certified Impossible Skills Trainer, will work with your athlete to improve basic and advanced ball handling skills necessary for point guards, shooting guards, forwards, and big men.  Learn how to create space to get your shot off, how to execute simple and complex moves to break down defenses, and to handle pressure against the press.
About Kelby Santoro – Kelby is one of the newest certified Impossible Skills Trainers  in the northeast and is now available this summer to work with you! Kelby was an all-star high school player and has been directing basketball camps for the last three years.  As a member of the Oneonta basketball program, Kelby has worked with college level athletes to help improve their overall skills during the season and during the off season.
About Coach Jim Santoro – For the last ten years, coach Santoro has been improving the shooting form for players of all ages.  Under the guidance of renowned shooting instructor Dave Hopla (Former NBA coach with the Washington Wizards, New York Knicks, and Toronto Raptors), Coach Santoro has become one of the finest shooting instructors in the area.  He continues to work with Coach Hopla to improve his own teaching techniques and has worked with hundreds of athletes in the northeast helping them to improve their shooting.  Now, with the aid of two shooting machines called the "Gun" and NOAH,  coach Santoro is offering a variety learning opportunities that will improve your shot.