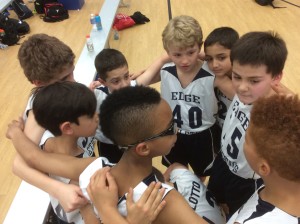 11u Opens Season with a 3-1/2 finish !
— April 13, 2015
The 11u team opened the season with an impressive 3-0 record that sent them to the playoffs held at Newtown Youth Academy in Newtown, Connecticut.
In the first game at Wooster School, the boys squared off against local rival Playmakers Academy.  After an exciting two halves that saw several lead changes, the game was finally decided in overtime.  Edge prevailed 41-37.  "It was a great way to open the season," said Jim Santoro, coach of the 11u team.  "The boys did a nice job offensively and did all the things that we have been working on.  And at the defensive end, they really showed that they understand the complex defensive concepts that we introduced in practice."
At the Brewster Sports Center in Brewster, New York, the Edge boys defeated another local team, The Wappingers Indians, in another exciting game.  Edge played tough in the first half and held a slight advantage before opening up the game in the second half and getting some separation.  But after being up by as many as 14 points, the Wappingers Indians staged an impressive comeback.  With 30 seconds remaining on the clock, the Indians scored to cut the lead to just one point, 31-30.  But Edge held on to win, completing the day with a 2-0 record.
On Sunday, the boys traveled to North Salem High School to face off against the Connecticut Stallions.  After a very slow start, the boys cruised to 25-4 victory, sending them to playoff action later that afternoon. "It was a great way to finish in pool play.  Although the Stallions weren't the strongest team in the bracket, they played hard.  And our kids played hard and with class," coach Santoro said.
After a little confusion as to the playoff format, it was determined that the three teams in the division that were 3-0 would qualify for playoff action.  Edge would have to face the number one seed at the Newtown Youth Academy in a shortened  1/2 game due to schedule conflicts.  In that game, the Edge boys fought hard, and took a few lumps, but fell to GHPA in the semi final round.  "It was a good weekend for us and a great experience for these boys.  Our playoff game against GHPA introduced the boys to another level of basketball, something they will see more often going forward," coach Santoro said.
Congratulations to the entire 11u team.  More hard work to come!