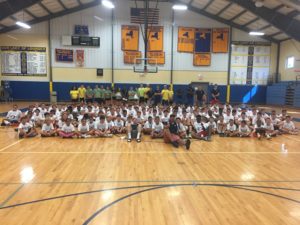 2021 Summer Program Dates Announced – Click tab on right for information on each program.
Edge Athletics will offer a variety of summer basketball programs for the 2021 summer season.  Although Covid-19 restrictions are slowly easing, our summer programs will be modified and will be run at our home location, The Poughkeepsie Day School.  You can expect the same level of quality as in past years, it will just be smaller and at a different location this summer.
Although the sessions will be smaller in size, you can expect the same level of quality and competitiveness that you have come to expect at Edge Camp over the years.  Thats why we have designated different weeks for different age groups. This will ensure that all of the athletes during the week will be competing against similar ages and skill levels.  Although this will limit the options for each age division, we feel it will make for a more competitive and more enjoyable experience for all of the athletes.  The grades are determine by the grade in which the athlete will be entering into in the fall of 2021.
With over 30 years experience  running basketball programs, we have taken out the guess work for what makes them great!  Our programs are designed for those athletes that want to improve their skills while having some fun doing it! But don't take our word for it, talk to parents and athletes alike that have attended one of our sessions in past years!
Set Up an Account and Register