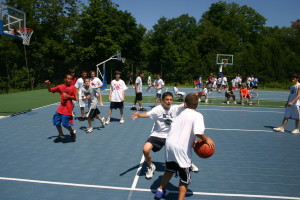 Edge Athletics Summer Camp Dates Set
— March 19, 2015
The Edge Athletics Traditional Basketball Camp and Offensive Skills and Shooting Camp held at Our lady of Lourdes High School in Poughkeepsie is now accepting enrollment for the 2015 summer.  There will be three Traditional Camp weeks for boys and girls ages 6-15 and two Offensive Skills and Shooting Camps for ages 12 – 17 (Two separate divisions for junior and senior divisions). The dates are as follows:
Traditional Camp -$145 per week
Session I:  July 6 – July 10
Session II: July 13 – July 17
Session III:  July 27 – 31
The camp has expanded and will feature "Get an Edge" work out sessions.  These sessions will be highly competitive and will focus on high intense instruction.  For more information or to download a brochure, please visit our camp section by Clicking Here. You may also contact us at 845-264-5078.
The Offensive Skills and Shooting camp is for athletes ages 12-17.  Because of the popularity of this camp (we have sold out the last three years) we have added a junior and senior division.  The dates are as follows:
Offensive Skills and Shooting Camp -$145 per week
August 3, 4, 5  – Session 1A for ages 12, 13, 14 (9:00am – 2:00pm)
……………………..Session 1P for ages 15, 16, 17 (4:00pm – 9:00pm)
Please Click Here for more information and to download a flier.