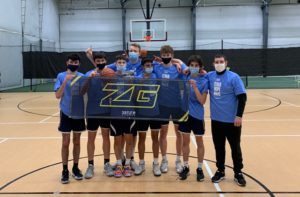 Edge Athletics 17u Wins Championship on Opening Weekend!
— April 26, 2021
We didn't know what to expect in our first game of the season. Some of the boys had played together in 13U and 14U but thats a long time ago. Plus, we added a few newcomers so there was a lot of unknown. We found out pretty quickly that we have a balanced attack offensively mixed with a disciplined defensive unit that works well as a team. Defensively the boys forced 13 steals. Cam Crowley lead the way with six followed by Danny Belmonte with three. That helped Edge Athletics hold DTX Black to only 52 points. On top of the six steals, Cam also added six assists. Alex Klybas took care of the glass by clearing nine rebounds. Danny Belmonte lead the way with 18 points. Chris Faughnan added 14 and Jake D'Auria poured in 13 points including three 3's.
Our second opponent was a little different. Team Prodigy had more depth, size and athleticism than DTX Black. They pressed us the whole game starting right from the tip. Team Prodigy got off to a hot start and took a commanding lead over Edge Athletics with a little over two minutes remaining in the first half. The boys continued to fight and play through adversity. After a few key defensive stops in a row, Cam Crowley got hot and knocked down three 3's in a row which cut the lead to four going into the half. The second half was back and forth all the way until the finish. Edge really took advantage of Team Prodigy when they switched to a 2-3 zone. Danny and Cam took turns running the show for us which lead to three pointers by David Ballantyne and Jake D'Auria. They both knocked down three 3's apiece. Chris Faughnan finished with a double double, 14 points and 12 rebounds. After knocking down some clutch FT's, Edge athletics moved to 2-0 after a 69-63 win.
Our third game was our toughest game all weekend. AAVBC was a very athletic team mixed in with a few shooters who were also coming into this game 2-0. The winner of this matchup received an automatic bid to the championship. Edge came out early and took a commanding 13-2 lead. AAVBC was a tough team so we knew they wouldn't go away. They didn't go away, they competed and we were in for a dog fight. Cam Crowley and David Ballantyne paced us early as they finished with 15 and 14. Jake D'Auria hit 6 three pointers to finish with 24 points. Danny Belmonte did a little bit of everything for us in this game since we were playing short handed. He filled up the stat sheet and totaled 8 points, 9 rebounds and 8 assists. Edge won by four and earned a berth to the championship.
The Championship game came down to two undefeated teams who each won their bracket, Edge Athletics and the NY Rising Rebels. The boys were exhausted playing four games in two days but they saved their best game for the championship. They were clicking on all cylinders and everyone played a part. Offensively Edge knocked down 12 3's and defensively they only gave up 38 points. Cam got everyone involved as he lead us with 9 assists. David lead us in scoring with 15 and three steals. Jake finished with 14 points, 7 rebounds and 4 assists. Chris Faughnan chipped in 11 points and 7 rebounds. Danny Belmonte did a little bit of everything again as he had 3 points, 8 rebounds and 8 assists. Lastly, Rob Stefano was on fire knocking down all three of his 3 point attempts. It seemed that each game the boys got a little more comfortable playing with each other. That showed by winning the championship by our largest margin all weekend, 21.