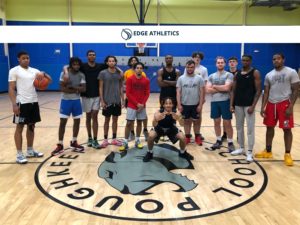 Top Players in the area getting a run in!
— May 14, 2021
Edge Athletics hosted one of many "runs" this Friday evening for the top high school and college players in the area. As a warmup, the athletes completed some minor skills training with coach/shooting instructor Jim Santoro and coach/skills trainer Tom Jordan.
Athletes started filing in at 7:30 and the skills workout began at 7:45. Then the athletes competed at a high intensity level and with the sole purpose of improving their game. All business all the time, all while having some fun on a Friday night. Check out the short video for some of the action.
Stay tuned for this to expand to other ages!
Athletes featured: Luther Muhammad – Ohio State/Arizona State, Tyrese Williams – Quinnipiac, Jake D'Auria – Our Lady of Lourdes High School/Edge Athletics, Deandre Williams – Trinity Pawling/PSA Cardinals, Xavier Boyd – Lehman College, Aaron Davis – SUNY Buffalo, George Patsalos – Newburg Free Academy, Brandon Cahill – Feltrim Academy…to name a few!