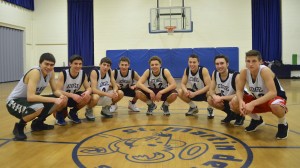 Edge Athletics Tryouts Extended!
— March 3, 2015
It's not too late! Tryouts for Edge Athletics have been extended for all age divisions.  Please see the website calendar for the additional dates and times for your age.
Edge Athletics is proudly entering our 19th season, the longest standing program in existence in the Hudson Valley today. Edge Athletics values RESPECT, SKILL DEVELOPMENT, and WORK ETHIC and has the highest level of standards.
Come see what Edge Athletics is all about at one of our tryout sessions for the Spring 2015 season below. Tryouts are held at the Poughkeepsie Day Schol (260 Boardman Road). Since we began, many things have changed in the world of youth sports and specifically how youth basketball players practice, play, and train to reach their goals. There are countless other basketball programs and clubs to choose from. Edge Athletics is different from all of them.
This is our promise to the athletes who join us: winning tournaments and getting t-shirts is not our priority. Our goal is to make every athlete a better fundamental basketball player and to help them achieve the realistic goal of advancing their basketball career to the next level of competition. We focus on skills, shooting, and team offense and defense. We do not measure our success in wins and losses, but rather the success of our student-athletes on their respective teams next fall.
Edge Athletics employs some of the finest and experienced HIGH SCHOOL and COLLEGE level coaches in the area. Most of the coaches in our program have been working and coaching with Edge Athletics for more than 10 years and have a combined over 100 years of coaching experience, guiding and teaching countless student athletes to help them achieve their goals.
The tryout schedule for all ages is below. Come see us to see why our program is the best option for you. Feel free to call me at 845-264-5078 with any questions you have.
Register for tryouts online on our website by following the instructions to the right of this post.
All tryouts held at the Poughkeepsie Day School, 260 Boardman Road, Poughkeepsie, NY 12603
There is a $25 tryout fee per student-athlete. All student-athletes must have AAU Insurance. You can purchase AAU Insurance at the AAU website.